NO FRILLS VIDEO, LLC VIDEO
Your one stop shop for Houston Wedding Videography And Houston Event Video
Recorded at 1080p60 (high definition) using Dolby 5.1 surround

All audio comes from actual wedding no pre-recorded song overlays

4 cameras at ceremony - no extra charge

You get a fully edited video with transitions and 'color correction'

You get 3 Blu-rays (high definition) & 3 DVDs (standard definition)

You get a 13 to 15 minute video clip summarizing the wedding

100 - 250 pictures from the video & slide show; some day of wedding

Full weddings 1 - 5 days; Ceremony only - 1 to 3 days

Pay for only the time you need; 50% - 75% below other videographers

You own all copyrights; you get all the original/working files

Pay when you get your disks, not at the wedding

Retainer fee, if it is a check, not cashed until you get your disks.

Less than 30 days to your event / wedding? Call us - we can do it
Weddings
Rehearsal Dinners
Parties
Performances
Recitals
School Plays
Bar/Bat Mitzvahs
Corporate
Summary: No Frills Video is a Houston Wedding Videography and Event Video company using professional videographers. In addition to wedding and event video, we also specialize in fixed location / tripod mounted video for performances, recitals and auditions. We will film musicians of any age and any size group. We film in high definition using mobile lighting. You will receive high definition video as a blu-ray disc and as high definition files on an external hard disk at no additional cost. Most of our customers get their video in 3 to 5 business days. If you are in the market for Houston wedding videographer, you can hire us for as little or as much of the wedding as you want. We specialize in providing you a wedding video which reflects the atmosphere and actual ambiance of your wedding - we do not try to turn your wedding film into a theatrical / film production. You also get at no extra charge (regardless of the time you use) pictures from the video, a picture slideshow, and a 8 to 14 minute video clip based on the wedding video. See other parts of this web site for more information and detail.
© 10/4/2018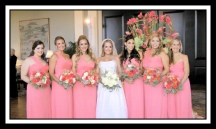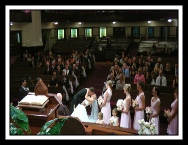 COMMUNITY SERVICE/CHARITY DONATION
SPECIAL FOR WOMAN WITHIN / WARRIORS!
If you attended a weekend or someone you recommend attends a weekend, you will get a $50 discount and I will donate $100 for scholarships or towards your/their tuition. For more information click:
Click On "First Look" to hear the custom music written by us for our Jan 6, 2018 wedding
Wedding Wire
Couples Choice Award
2017, 2018
TheKnot
Best Of Weddings
7 Consecutive Years
2012 - 2018